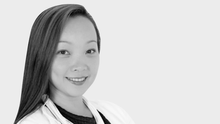 Jessica spent her childhood in her native China, she came to Australia as an exchange student when she was 15.
Since then she has lived and worked in many places around the world including, France, America, Canada, Singapore, and Thailand. Her passion for learning different cultures has meant she has become fluent in English, French and Chinese (mandarin & cantonese).
Jessica completed her masters in design and technology at Parsons School of Design in New York. She has over a decade of experience in sales, marketing and advertising before she openly sought out the market leader, Ray White Surfers Paradise and decided that's where she needed to be to become a Top Agent.
With a multicultural background and multi language skills , Jessica is your perfect link to both local market and international market. Her friendly enthusiastic approach displays her genuine passion for people, Gold Coast and Real Estate. Her clients find that she will go out of her way to help them achieve maximum results.
Always cheerful, she gains the trust of her clients and many become friends.
If you ever consider to sell or buy a property in the Gold Coast region, feel free to contact Jessica at 0478 178 052 or j.huang@rwsp.net.
Jessica出生于中国,15岁时因学习成绩优秀作为交换学生来到美丽的澳大利亚学习。之后,她曾在世界上许多地方学习和工作过,其中包括法国,美国,加拿大,新加坡和泰国。她对学习不同文化的热情让她能说流利英语,法语和中文(普通话和广东话)。
Jessica曾考入美国项尖的设计学院:Parsons School of Design, 以优异的成绩毕业,获得了Parsons School of Design设计和技术硕士学位。在她加入澳洲房地产市场领导者Ray White Surfers Paradise之前,她已在销售,营销和广告方面有超过十年的经验。
凭借多元文化背景、多语言技能和对国际房产市场的多年工作经念,Jessica是您与当地市场和国际市场的连接的完美纽带。她待人诚恳、热情、做事认真,处处为客户着想。"客人利益最大化"是她的座右铭,因此她获得市场的同时也获得了客户的信任,很多客户都成为了Jessica的朋友。
如果您考虑在黄金海岸地区出售或购买房产,请随时联系Jessica,电话:0478 178 052 或 微信: 1390 7579 536 .